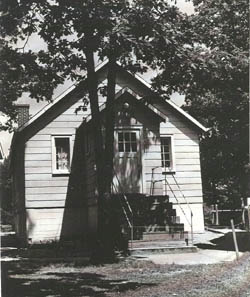 St. Giles Presbyterian Church evolved from a Vacation Bible School, held in a tent on the present Lakeshore Road property in the summer of 1944, under the auspices of St. Andrew's Church in downtown Sarnia. In the fall of 1944, a small frame hall was built with the first service of worship held on January 19, 1945 with 87 people in attendance. By the summer of 1945, the St. Andrew's Lakeshore Mission was overcrowded, particularly in the summer. In the fall of 1946, the Mission became St. Giles Presbyterian Church with 44 charter members taking communion at the first service.
The white-frame structure in the picture above served St. Giles from 1944 when it was built until 1960 when it was moved to Brights Grove, where it now serves as an insurance office.
Growth continued, requiring the building of the present sanctuary in 1955 and the Education Wing in 1960. Although no new space has been added since, the buildings and grounds have been well maintained. Major projects in the 1990s saw the installation of a 14-stop tracker-action pipe organ, unique in the Sarnia area; a handicapped access including an elevator and washroom; the complete revamping of the church kitchen; and the addition of a sound system complete with hearing aids. As well as the pipe organ, the sanctuary also has a grand piano and a harpsichord.
The new millennium has already seen several enhancements to our church building:
In 2001 new lighting brightened our worship space and the next year a beautiful stained glass window was installed. Both of these additions were made possible by memorial gifts.
The third project, in late 2003, involved completely refurbishing and redecorating the rooms used for the Church School program.
The fourth project, completed in 2004, featured improvements in decor and lighting in the main entrance off Lakeshore Rd.
In 2006, the fifth project, which involved a major renovation to the chancel area, was completed. The fixed pulpit and lectern with the associated railings were removed. The chancel platform was enlarged by extending it both forward and on each side to the full width of the sanctuary. Two steps, each five feet wide and also the full width of the sanctuary, lead down to floor level. These changes give the chancel a more open appearance.
In 2011, the sanctuary sound system was upgraded with new speakers, new microphones and input jacks, hanging microphones in the chancel, and a new mixing board, as well as a portable sound system for use outside of the sanctuary. In addition, a computer and an LCD projector were added, which are used to display hymn lyrics, graphics, and videos.
In 2013, the sanctuary was equipped with air conditioning.  God is good!
These last five projects were all funded by special donations.
So you can see that St. Giles, while proud of its history, is actively and confidently looking to the future!