Obituary for Isabella Harris (Walker)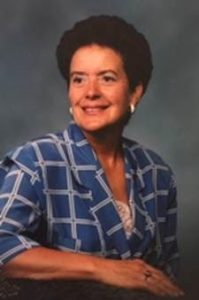 Isabella "Isa" Harris
It is with great sadness we announce the passing of Isabella "Isa" Harris surrounded by her family at Vision Nursing Home on Friday, February 9th, 2018 at the age 82. Born in Belfast, Northern Ireland. Survived by her beloved husband William Harris, predeceased by siblings Hugh Walker and Arthur Walker ( Nan). Isa was the loving mother of Hugh Copeland and Patricia Budziewicz, step-mother to Diane Bigras( Leo) and Bruce Harris ( Susan ). Sadly missed by her loving siblings Jack Walker, Gladys "twisted sister" Howarth and six grandchildren – Jahn (Kristen) Brittany( Mike )Lauren ( Dino) David, Rachel, Chad ( Nicole) and six great grandchildren, nieces, nephews, and dear friends to Doreen Blake, Aileen Phillips, Peggy Turner , plus many others who will always have a special place in her heart. Very special thanks to Dr. Gannon, and the exceptional nurses and PSW's who cared for Isa at Vision Nursing Home. Isa loved to entertain, cook, play golf andbridge, getting her hair done for the last 32 years and babysitting her six grandchildren during their early school days. She will be missed for all her kindness towards others, always giving and lending a special hand whenever needed. Isa was a member of St. Giles church where she enjoyed making turkey pies and always helping out in the kitchen. She meant the world to everybody she touched, and that was many. At Isa's request cremation has taken place and there will be no formal service or visitation. Family and friends are invited to a graveside service to be held Friday,February 16th at 2:00 pm at Lakeview Cemetery.  Sympathy may be expressed through donations to the Alzheimer's Society.
You are invited to a reception in  honour of Isa, at  St.Giles , immediately following the graveside service.