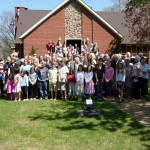 St. Giles is a welcoming church set in beautiful north Sarnia on a heavily treed lot near the shores of Lake Huron. It is a place where all are invited to encounter and experience God and be continually transformed into hope-filled sacred individuals.
Meet our minister, Rev. Rebecca Roushorne    http://www.ministrytomotherhood.com/about/
Here's the link to book your photo session.  If you want to bring personal items like a musical instrument or something else that shows off the real you, you are invited to do so.  The sessions will take approximately one hour.  https://booknow.appointment-plus.com/yce5jybk
Summer Sunday School Coordinator Wanted
July 3 –September 3rd, 2018     6 hours/week, $15/hour
Please submit a resume and a cover letter highlighting your experience within a Christian community to 770 Lakeshore Rd, St. Giles Presbyterian Church.  Only applicants chosen for an interview will be contacted.
We are looking for an enthusiastic and safety-minded leader who loves God and loves leading children to God.  The Summer Sunday School Leader role involves producing and implementing a 1 hour program each Sunday for up to 15 children ages 3-11.  A volunteer will assist during the program hour. Applicants are expected to possess leadership, organization and communication skills as well as a passion for developing the Christian faith of young children.
Slim and Share – 9:30 am Wed. March 21-April 25 in the Ruby Walker Room.  On March 28th it will be at 11:00 instead. It's a fun program of VERY low key exercises followed by a time of sharing scripture.  
S.O.S. Bible Study (Share Our Scripture) 9:00 every Sunday morning in the sanctuary.  All are welcome at any time.  This study reflects on the lectionary readings for that Sunday and is led by Jim Smith.
Small Group Study Our next study, Follow, begins Tuesday April 10th at 9:30 a.m. and Wednesday April 11th at 6:30 p.m. Andy Stanley's book is in the office for $15.  Find out more at this link http://northpoint.org/messages/follow/
Click on the Calendar tab above to check out upcoming dates on our calendar.
Our Ministry
St. Giles – Love God.  Love others.

 The ministry of St. Giles strives to serve those within the congregation, the wider community and around the world. A compassionate congregational care team visits shut-ins and people in hospital. Locally our members are involved in such activities as preparing food and serving meals at The Inn of the Good Shepherd, while internationally we support organizations such as Presbyterian World Service & Development and Dr. Graham's Homes. For a complete listing of current programs, please go to our Church Groups page.
Leadership Team
| | |
| --- | --- |
| Minister: | Rev. Rebecca Roushorne |
| Office Administrator: | Suzanne Bywater |
| Clerk of Session: | Graham Royal |
| Board of Managers Chair: | Donna Gander |
| Treasurer: | Scott Graham |
| Director of Music: | Dan Sonier |
| Children's Ministry Leader: | Leanne Barnes |
Mission Statement
Our mission is to love God and love others unconditionally as we actively live and share the good news of Jesus Christ through Spirit-led worship, prayer, fellowship, service, and the study of God's Word.